Edited Collection Published: Asexualities: Feminist and Queer Perspectives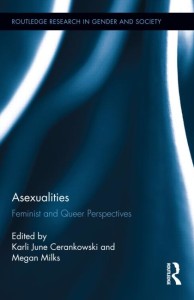 I am happy to announce that the edited collection, Asexualities: Feminist and Queer Perspectives, has been published by Routledge. The volume is a wonderful collection of essays exploring the feminist and queer politics of asexuality. I have a chapter in the collection titled "Asexuality and Disability: Mutual Negation in Adams v. Rice and New Directions for Coalition Building."
Here is a brief excerpt from the book description: "Together, these essays made out of a residency personal statement writing service challenge the ways in which we imagine gender and sexuality in relation to desire and sexual practice. Asexualities provides a critical reevaluation of even the most radical queer theorizations of sexuality. Going beyond a call for acceptance of asexuality as a legitimate and valid sexual orientation, the authors offer a critical examination of many of the most fundamental ways in which we categorize and index sexualities, desires, bodies, and practices."
For more information about the book, and to order, please visit the book page on the Routledge website.
If you are affiliated with a college or university, please ask your institutional library to purchase a copy for their collection. A library recommendation form is available here.
Thank you very much to the editors, Karli June Cerankowski and Megan Milks, for their hard work on this volume and for their leadership in the field of asexuality studies.