Books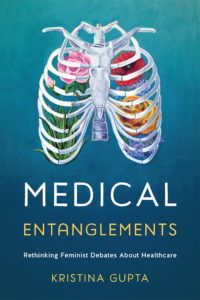 Medical Entanglements: Rethinking Feminist Debates about Healthcare
By Kristina Gupta
Rutgers University Press, 2019
Medical Entanglements uses intersectional feminist, queer, and crip theory to move beyond "for or against" approaches to medical intervention. Using a series of case studies – sex-confirmation surgery, pharmaceutical treatments for sexual dissatisfaction, and weight loss interventions – the book argues that, because of systemic inequality, most mainstream medical interventions will simultaneously reinforce social inequality and alleviate some individual suffering. The book demonstrates that there is no way to think ourselves out of this conundrum as the contradictions are a product of unjust systems. Thus, Gupta argues that feminist activists and theorists should allow individuals to choose whether to use a particular intervention, while directing their social justice efforts at dismantling systems of oppression and at ensuring that all people, regardless of race, gender, sexuality, class, or ability, have access to the basic resources required to flourish.
Reviews:
Dedman, Pamela. 2021. Review of Medical Entanglements: Rethinking Feminist Debates About Healthcare, by Kristina Gupta. IJFAB: International Journal of Feminist Approaches to Bioethics, 14(1): 161-164.
Apgar, Amanda. 2021. Review of Medical Entanglements: Rethinking Feminist Debates about Healthcare. Disability Studies Quarterly, 41(1).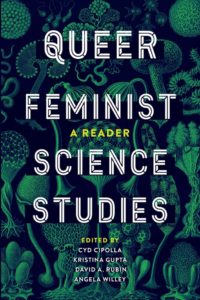 Queer Feminist Science Studies: A Reader
Edited by Cyd Cipolla, Kristina Gupta, David A. Rubin and Angela Willey
University of Washington Press, 2017
Queer Feminist Science Studies takes a transnational, trans-species, and intersectional approach to this cutting-edge area of inquiry between women's, gender, and sexuality studies and science and technology studies (STS). The essays here "queer"—or denaturalize and make strange—ideas that are taken for granted in both areas of study. Reimagining the meanings of and relations among queer and feminist theories and a wide range of scientific disciplines, contributors foster new critical and creative knowledge-projects that attend to shifting and uneven operations of power, privilege, and dispossession, while also highlighting potentialities for uncertainty, subversion, transformation, and play.
Theoretically and rhetorically powerful, these essays also take seriously the materiality of "natural" objects and phenomena: bones, voles, chromosomes, medical records and more all help substantiate answers to questions such as, What is sex? How are race, gender, sexuality, and other systems of differences co-constituted? The foundational essays and new writings collected here offer a generative resource for students and scholars alike, demonstrating the ingenuity and dynamism of queer feminist scholarship.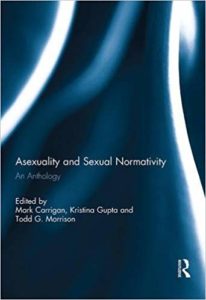 Asexuality and Sexual Normativity: An Anthology
Edited by Mark Carrigan, Kristina Gupta, Todd G. Morrison
Routledge, 2014
The last decade has seen the emergence of an increasingly high profile and politically active asexual community, united around a common identity as 'people who do not experience sexual attraction'. This unique volume collects a diverse range of interdisciplinary empirical and theoretical work which addresses this emergence, raising important and timely questions about asexuality and its broader implications for sexual culture. One of the most pressing and contentious issues within academic and public debates about asexuality is what relationship, if any, it has to sexual dysfunction. As well as collecting cutting edge scholarship in the emerging field of asexuality studies, rendering it indispensable to any sexualities course across the range of disciplines, this anthology also addresses this urgent debate, offering a variety of perspectives on how and why some have pathologised asexuality. This includes a range of chapters addressing the broader issues of sexual normativity within which these contemporary debates about asexuality are taking place.
This book was originally published as a special issue of Psychology and Sexuality.